Mohave County's Premier Equine Facility including EAL (Equine Assisted Learning)/ EAP (Equine Assisted Psychotherapy) programs and Horsemanship Academy riding lessons for equine enthusiasts with or without disabilities. We are home of some of the best equine therapists that have and continue to change the lives of those they touch.
Located at 4390 Glen Rd. Kingman, Az 928-279-7581
(Please do not drop in, by appointment only)
​We DO NOT offer trail rides, horses for hourly hire and/or board horses.

Our mission is to improve the minds, body's and spirits of children and adults with life-threatening illnesses, chronic pain disorders, disabilities, PTSD, at-risk youth, children of poverty/low income families, and able body riders through Equine-Assisted Activities and Therapies, Equine-Assisted Psychotherapy programs and Horsemanship lessons. Joy can heal in so many ways and we strive to help in the healing process for individuals, families and friends with individual programs designed to foster the development of self-esteem, respect for themselves and others, horsemanship skills in handling and riding, as well as principles of kindness, responsibility and care for all animals.

Our vision is to reach everyone in the community and in our county, that may not have the opportunity to have horses in their lives and experience the wonders in healing that horses can offer through our progressive sessions that are taught by our certified instructors and horses.

Our value to our community includes offering a Safe Place free of judgement, a social outlet for making new friendships, building confidence in those who have been victims of bullying, sexual and/or mental abuse; all through interactions with our CHA Certified Instructors and Certified Therapy/Lesson Horses which are the backbone of our program.
​
Kingman's Healing Hooves staff have current FBI background checks to ensure the safety of our most vulnerable clients, along with an updated camera security system.
Kingman's Healing Hooves provides a variety of therapeutic and educational programs utilizing our incredible herd of four-legged therapists. Click on the page tabs to learn about services and drop down menus to explore.
​
Memberships and Certifications
We constantly strive to advance our knowledge and skills.
---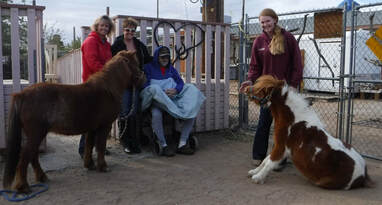 Thank you to our Grant and Corporate Sponsors
Privacy Policy
Owner
This website, www.kingmanshealinghooves.com, is owned by operated by Kingman's Healing Hooves Riding Center located at 4390 N. Glen Rd. Kingman, Az. 86409. K.H.H. Riding Center reserves the right to modify or amend the terms of use and privacy policy at any time for any reason. K.H.H. Riding Center is committed to protecting your privacy and personal information.
Kingman's Healing Hooves does not sell, rent, exchange or otherwise disclose your information with any group or organization
. Personal information provided to Kingman's Healing Hooves will be kept confidential and in a secure environment. Access to personal information will be restricted to only those Kingman's Healing Hooves personnel and only for a legitimate business purpose.
Security
Kingman's Healing Hooves Therapeutic Riding Center uses generally accepted, industry-standard security systems, software and encryption technologies to protect against unauthorized access to
K.H.H. equipment and other components of our online presence.